The Power of Latino Leadership Ahora! Second Edition: Culture, Inclusion, and Contribution
Posted by: DVULI | September 26, 2019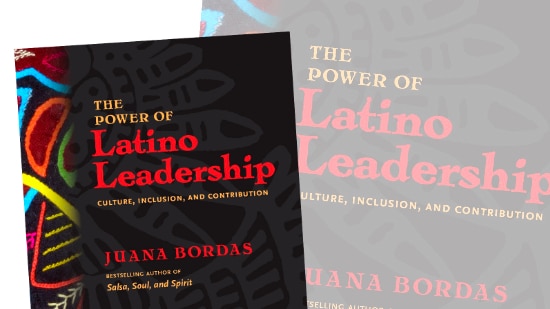 by Marvin Jacobo (YFC 2009) [September 2019] ; updated by DVULI Staff [August 2023]
For leaders living in a city with a growing Latino population who want to support the ever-growing leadership influence of Latinos, The Power of Latino Leadership by Juana Bordas is highly recommended. This updated and expanded edition is the first and only book to offer a leadership model firmly based on the Latino experience and culture. It provides an exciting, hands-on, and test-driven way to connect with and leverage Latino assets, energy, and values.
By 2045, Latinos will make up one in four Americans. They are projected to be 78 percent of the new entries into the labor force in the next 10 years. By sheer numbers alone, Latinos will shape the twenty-first century. What does it take to lead these varied and vibrant people who hail from 26 countries and are a blend of different races? And what can leaders of all cultures and ethnicities learn from how Latinos lead?
Bordas takes the urban youth worker on a journey to the very heart and soul of Latino leadership. She offers 10 principles that richly illustrate the inclusive, people-centered, socially responsible, and life-affirming ways Latinos have led their community. This model is uniquely suited to this century's multicultural, global age and offers unique ways the Latino community can lead.
This new and expanded edition includes a chapter on intergenerational leadership that recognizes vast generational shifts: 10,000 baby boomers retire every day, and millennials and Gen Z are the largest generations in history. Six out of 10 Latinos are millennials.
This new chapter can guide us in preparing the next generations to take the helm of leadership. This unprecedented and wide-ranging book shows that Latino leadership is indeed powerful and distinctive and has lessons that can inform leaders of every background.
Consider how the prophet Zechariah describes what many urban leaders dream of for their city: "A good city to grow old in… a good city to grow up in" (Zech. 8:4-5 MSG).
What can DVULI grads do now to activate and unleash Latino leaders in their cities? The Power of Latino Leadership offers the right insight into how to best prepare and respond.