Making Room to Breathe
Posted by: Will Cumby (Houston 2010) | November 15, 2020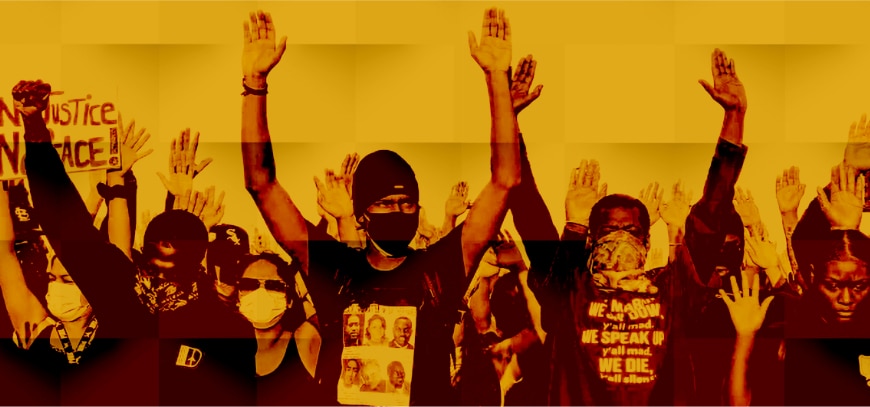 ► Boots on the Ground for Twin Cities Alumni
On June 9, 2020, in the sanctuary of The Fountain of Praise (TFOP) church in Houston, Texas, church members, community leaders, A-list celebrities, and professional athletes gathered with the family of Mr. George Floyd for his final celebration of life service.
TFOP is my home church where I work full time as a youth pastor. On this occasion, I was assigned to direct traffic in the parking lot, wearing a full suit in 100-degree temperatures. After two hours, I finally went inside the air conditioned sanctuary, and I stoodvin amazement at the high-profile crowd the service had attracted amid social distancing mandates.
---
The homegoing celebration was impactful and inspiring, and there was one moment I will never forget. After songs, prayers, and words of comfort, designated pallbearers took the casket from the altar to the hearse. Rather than rolling it down the aisle, the six men hoisted it above their heads and carried it out of the church. Everyone within proximity joined in elevating the casket causing it to float triumphantly through the sanctuary.
Dr. Martin Luther King said, "We all came in on different ships, but we're all in the same boat now."
Respectfully, I don't know what the loss of oxygen on Lake Street in Minneapolis felt like during the eruptive days following Mr. Floyd's death, but the final scene within TFOP was breathtaking. Family, friends, and visitors came for the funeral of a man whose breath was stolen from him, and all left with a charge to help their communities breathe again.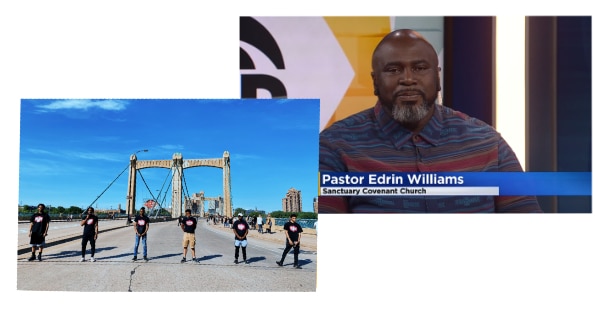 Many of my fellow DVULI alumni in the Twin Cities were not in Houston on this day because they were busy doing what they could to resuscitate their beloved city. They have an up-close perspective of the Twin Cities and the aftermath of Mr. Floyd's death, coupled with America's pandemic pangs. These urban warriors are sharing the breath-giving gospel in Minneapolis St. Paul just as Jesus called the disciples—and we who follow Him—to aid the brokenhearted and comfort hurting communities.
Benny Roberts (Twin Cities 2018) watched his city drastically shift from a "food desert" to a "nonfood Grand Canyon." He explained that every business was affected. The only two nearby banks in town were destroyed, and there were no places to get medicine. Benny had to pivot his programming due to the massive demand for assistance. Their shift placed a greater emphasis on Benny's farm and nutrition program. It also included acquiring financial resources for community businesses to reopen instead of being replaced.
"We are working with the community councils for businesses and busy urban corridors to continue to plan for more community uplift," said Benny. "To God be the glory for this difficult work in such a trying time."
Ronald McConico (Twin Cities 2008) noted that his world was forever changed the morning after Mr. Floyd's death when a young man sat on his front porch weeping. After getting more details during an evening Bible study, it was apparent that the ripple of pain had even reached the suburbanites in his church's community. Ronald shared, "I remember the night after the fires. I helped hand out everything from groceries to diapers for a community that now no longer had jobs or a place to spend what money they might have."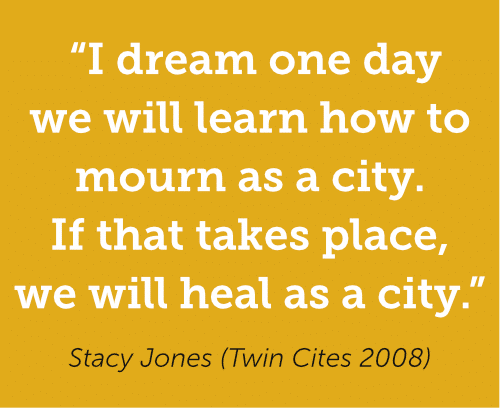 Another eyewitness and advocate, V.J. Smith (Twin Cities 2006), served in the face of danger and uncertainty. V.J. explained that his ministry team, MADDADS, immediately mobilized to help quell uprisings and promote peace. The rapid swell of protestors became too much for them to prevent violence, rioting, and looting. According to V.J., that didn't stop them. His team retooled their strategy to enhance the community cleanup work they were already doing. V.J. is using this time also to address mental health needs. He reported, "We have been able to provide support for about 400 families so far and have been able to get about 15 to 20 people into treatment during this."
Senior pastor of Sanctuary Covenant Church, Edrin Williams (Twin Cities 2008), admits that the Twin Cities is still reeling from the weeks of unrest. Like V.J., Edrin found a different perspective amid the widespread protests.
"In the hours and days immediately following [George Floyd's] death, our community came together in a variety of ways to express the grave injustice," Edrin said. "While property damage and looting received a lot of attention, there were many more examples of peaceful protests organized around the community's demand for reform, justice, and accountability."
The damage to the Twin Cities was massive. Nevertheless, the responsibility for the destruction cannot reasonably rest on the urban community. "There were those who took advantage of the unrest," Edrin pointed out. "For days after, there was confirmed activity by outsiders, including many white supremacist organizations that were set on damaging key institutions and destinations within the city. In a community already damaged by generational poverty and weakened by COVID-19, we saw several businesses in the community destroyed."
Benny cosigned Edrin's observations and detailed that outsiders "tried to blend in with the many peaceful protest efforts led by the Black Lives Matter movement, Minneapolis Freedom Fighters, and other groups standing in solidarity with the Twin Cities black community."
There is big hope in Minneapolis.
Korey "XROSS" Dean (Twin Cities 2018), is the founder of The Man Up Club. Following the riots, his mentor leadership organization that specializes in the development of African American males clicked into overdrive. The Man Up Club was first to provide a food distribution site to the inner city of North Minneapolis and healing circles to youth affected by the trauma. His leadership and young men led a peaceful protest and march with 15,000 youth and produced a youth-led "iPray" rally resulting in 52 inner-city youth getting saved (41 of who were reportedly black males).
Korey's team decided to launch "GodFlow," an alliance of urban pastors and ministries doing citywide outreach to inner-city youth. The event utilizes Christian hip hop ministers, gospel singers, and athletes to creatively communicate the gospel message while commissioning inner-city youth to actively deconstruct racism in their cities.
"I am extremely proud of our young men in The Man Up Club for demonstrating their capacity to compartmentalize their own hurt, disappointment, and trauma and to dig deep within themselves as responsible young men to serve the greater good of others in their city," offers Korey.
Shemeka Bogan (Twin Cities 2018), a strategic community creator, recognized the disconnect between resources and her neighborhood. She then began successfully building relationships to rebuild her city. Similarly, Stacey Jones (Twin Cities 2008) and UpWorksMN are connecting resources to pockets of people in neighborhoods not generally seen or served by larger organizations. By partnering, channeling resources, and participating in pop-up food distributions, these alumni are optimizing the core value of interdependence.
"This season has been about the heart of Christ," affirms Shemeka. "The work outside of our four walls is a perfect example of how you really and truly meet people where they are."
Ronald went on to create a youth employment program called Help Me Breathe. It teaches ethics and interview skills to adolescents in economically depressed neighborhoods. The mission is to help youth acquire lasting employment and bring revenue back into their community.
"Ministry in the wake of George Floyd's death has been fast-paced, unrelenting, and demanding," said Tara Hollingsworth (Twin Cities 2018), who serves in ministry alongside Edrin at church. "As a team and congregation, we are learning as we go, knowing that the needs of our community are not simple and singular but complex and holistic. We will work to leverage this moment, continuing to build trust with our neighbors and meeting both spiritual and physical needs."
The Twin Cities is catching its breath, and with the committed work of these and other passionate DVULI alumni, the city will breathe even more efficiently. Social injustice isn't new to this community. Still, daily new efforts are put forth to combat the years of inequalities, the need for police reform, and, most importantly, the need to love our neighbors across color lines.
Rev. James Lawson, a civil rights activist, delivered inspiring words at Floyd's funeral. He said, "And how long are we going to say, 'I can't breathe'? You think something good can't come out of this? Out of his death has come a movement. And that movement is not going to stop after two weeks, three weeks, or a month. That movement is going to change the world."
"Jesus is willing to comfort every individual who mourns (Matt. 5:4)," Stacey laments. "I dream one day we will learn how to mourn as a city. If that takes place, we will heal as a city."