Make It a Habit
Posted by: DVULI | April 14, 2022

Opinion by Bwana Clements (Indianapolis 2013)
Basic human development and psychology inform us that all behavior begins with a thought, feeling, or emotion. If basic human psychology is true, it's imperative to examine how we think and reflect on our behaviors. Is a certain behavior or habit causing more discomfort than it's worth? Is it a good reflection of who God has called me to be? As leaders, forming healthy habits begins by observing our own thoughts and behaviors and then deciding if a change is needed.

Being mentally and emotionally healthy is ground zero for effective leaders.
Know thyself! Effective leaders are honest about who they are, what they've been taught, what they've experienced, and how all of it impacts the way they think and behave. They don't fool themselves by hiding their history, hurts, and hang-ups, acting as if those things don't affect them. Effective leaders make it a habit to identify, process, and appropriately deal with the things that impact their mental and emotional health so that they can bring their best selves to their family, work, and others.

Effective leaders have healthy habits in the area of self-care.
As a PK (preacher's kid), I grew up in a home where self-care was not practiced or modeled. It was all about work and ministry. Dad would leave daily for work at his full-time job at 6:00 a.m. and work until 4:00 p.m. On Wednesday, he went to a prayer meeting. On Tuesday and Thursday, he taught at the local Bible college. On days Dad was home, he studied, wrote sermons or lesson plans, and took calls from church members, mentees, or people who needed to speak with a pastor. No attention or intention was given to play, relaxation, or self-care.


This unhealthy lack of work-life balance is why so many in the ministry struggle with unhealthy habits and behaviors.
The relentless grind makes it virtually impossible for leaders to be as effective as they need to be. Leaders that burn the candle at both ends are vulnerable. Unhealthy habits and sin can easily creep in with little resistance from drained, worn-out, unbalanced leaders who think being constantly busy is equivalent to God using them. During my participation in DVULI, this was my major takeaway. I was doing God's work without God. The lopsided, unhealthy "I can rest when I die" mentality (that I observed and learned from Dad's ministry) had fueled the charm and charisma God gave me and created a leader who existed on pure talent and drive instead of God's directives.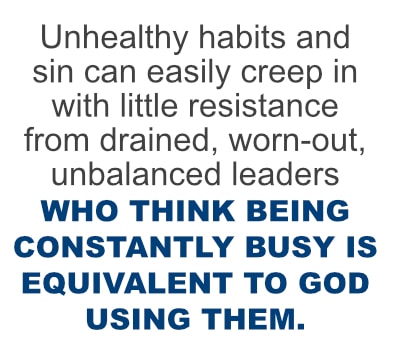 Finally, effective leaders should value the habit of life-long learning.
Being a leader is not a static position. It is possible to rise into leadership and fall from leadership. We see it every day in the news, on social media, and in our communities. One of the most consistent habits of effective leaders is continued learning. This habit sets them apart from everyone else. Effective leaders stay fresh, relevant, and excited because they make consuming new information and ideas a habit. These aren't people who spend hours each day scrolling Facebook! Effective leaders love to learn new and innovative ways to connect with those they serve.

I have little doubt that we all want to be effective leaders in our communities. It's typical of leaders to have felt a blessing or calling on their life that led them into a life of servant-leadership. How effective we are in our roles as leaders is heavily contingent on the behaviors and habits in our lives that either distract us from our purpose or empower us to be our sharpest. This requires intentional focus to identify and build healthy habits. When we do that, we put ourselves in a position for God to do nothing but great things with us.
---

Bwana Clements (Indianapolis 2013) is a social worker, professional consultant, program developer, and author. He earned a BS at Ball State University, and an MSW at Indiana University. You can follow Bwana on Facebook.