CCDA Reimagines and Reunites in Kansas City
Posted by: DVULI | December 14, 2021

by Gerald Bell (Kansas City 2003)
At the ballroom entrance of Kansas City's downtown Marriott Hotel stood Marvin Daniels (Chicago 2002), wearing a red event T-shirt and a mask that covered his signature gigantic smile. His embrace was followed by similar greetings from Michael Davis (Kansas City 2008), Curt Gibson (Los Angeles 2005), Adrian McConnell (Dallas 2011), and Irene Cho (Los Angeles 2019), among other members of the DVULI alumni family.
It was not easy to exercise all social distancing protocols because DVULI alumni were all thrilled to see each other, and attendees of this year's CCDA conference were overjoyed, if not relieved, to be in the same room.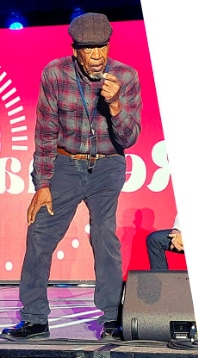 Even 91-year-old Dr. John Perkins couldn't stay away from the convening that attracted some 1,800 registrants.
Keynote speakers such as Darryl Answer (Kansas City 2015), Mayra M. Nolan (Los Angeles 2003), Daniels, and others graced the main stage to inspire attendees to "reimagine" (the conference theme). Reimagine loving your neighbor. Reimagine discipling youth. Reimagine attracting the lost to Christ. Reimagine your church and communities. Reimagine empowering others.
It was heartwarming to participate in select workshops that included an impressive lineup of DVULI alumni as presenters. Donna Barber (Atlanta 2008), Amber Booth (Kansas City 2015), William Cumby (Houston 2010), Benita Hopkins (Oakland/SF Bay Area 2015), Ace Johnson (Oakland/SF Bay Area 2017), Damon Owens (Oakland/SF Bay Area 2017), Alvin Sanders (Cincinnati 2014), and Courtney Walton (Cincinnati 2014) were amazing at facilitating and equipping delegates with tools to apply in their own development and local context.
A special highlight was emcee Eric Iverson (Twin Cities 2018), who skillfully managed the flow of the main stage attractions that included worshippers, dancers, panelists, speakers, video reels, and more. Each morning, Dr. Perkins offered five minutes of wisdom at the Bible studies, and he was a big cheerleader throughout the four-day conference. The reimagine theme was intended to be a call to realign with God's vision and to care for the vulnerable and oppressed like never before.
With many familiar (masked) faces and just as many first-time CCDA delegates, the conference atmosphere was refreshing, and it was easy to tell that those in attendance were grateful for it.
Members of the DVULI staff were honored to speak with the new CCDA President and CEO, Cecilia Williams, about future partnership opportunities and how urban youth workers can experience more training benefits. Hopefully, that will lead to even bigger smiles at the door!
Next year's CCDA conference is set to take place in Charlotte, North Carolina, November 2– 5, 2022.