Breakthrough: Sharod Tomlinson – Finally Embracing the Help of Others
Posted by: DVULI | March 22, 2023

by Gerald Bell (Kansas City 2003)
One could joke that Sharod Tomlinson (New York 2009) wore an invisible "S" on his chest. The single father leading a youth ministry was known for coaching high school basketball, traveling as a speaker, volunteering in the community, teaching Sunday school, and completing a master's degree—all while working full-time in student development at Berkeley College of New York.
At the point of burnout, Sharod was accepted into a DVULI cohort that required him to pause and reflect on the health of his life choices. "I used to feel like I was the only one dealing with the issue of imbalance," he notes. "I now understand I have others I can turn to for help."
Being comfortable embracing the help of others clicked for Sharod at the first national conference in Orlando, Florida, where he heard a presenter speak on making healthy changes. Sitting at a table in the training room, he had a good heart-to-heart talk with his cohort coach about the challenges of life and the importance of taking steps to overcome them.
"I was about 300 pounds at that conference," Sharod reveals, who is now 80 pounds lighter. "I realized my life was on this crazy spiral of overworking and lots of stress. I understood I was not the only leader in the room who was burned out. I also knew it was up to me to do what's right to get control of my life."
In both high school and college, Sharod was an accomplished student-athlete. He knew the kind of discipline required to get fit but still needed help. He sought professional medical advice and admitted that was his best first step.
"I remember sitting outside the doctor's office in tears because I remember watching my grandfather and father battle diabetes. I said I am going to do everything not to be in that position…," recalled Sharod, "Now I am in a better place and have eliminated stress, which was the number one contributor to my unhealthiness."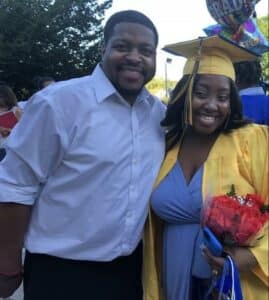 Not only did Sharod embrace the support and counsel of others, but he also modeled it for the youth he served at St. Luke Cathedral in Queens, New York, where he is now an associate elder. One of the youths he mentored, Kayla Allen, joined the ministry while an elementary student. Being raised in a single-parent home, Kayla endured a contentious relationship with her absent father. She also dealt with the typical pressures from peers and battled low self-esteem as a public school student.
Kayla, 22, will never forget when her high school guidance counselor said she would never succeed at her dream to study medicine and insisted she choose something "more practical." This encounter would go down as one of her most memorable childhood disappointments. "At that moment, I felt like an insecure little girl with that voice in my head telling me I wasn't good enough," she says.
Tomlinson would offer the counter voice Kayla leaned into that reassured her of what she could achieve. "Mr. Sharod helped me create a vision and execution plan for my future goals," says Kayla, a junior at New York City College of Technology studying health science. "From his guidance alone, anyone is lucky to have him as a mentor."
Today, Sharod continues to inspire young people to pursue their dreams in his roles as the associate dean of student success and engagement at St. John's University, as the head coach of girls' basketball at Christ the King High School, and most importantly, as father to his 10-year-old son, Isaiah.
His academic achievements are a significant source of inspiration because he, too, had to combat negative voices telling him he wasn't cut out for success, much less a doctoral degree.
"Gratitude unlocks the fullness of life," offers Sharod. "Since graduating from DVULI, I have experienced breakthrough in all aspects of my life, and I am grateful."