Breakthrough: Chelsea Weber
Posted by: DVULI | May 27, 2022

by Kimberlee Mitchell, Staff Writer
In her new part-time role as pastor of student and children's ministry, Chelsea Weber (Fresno 2016) struggled to find her way and discover her identity and calling. In her words, she struggled to "figure out what I was passionate about and why God had placed me at Kerman Covenant Church (KCC)."

KCC was in partnership with La Vina Covenant Church (LVCC) in Kerman, California, where the two congregations shared a facility for 17 years. With Spanish and English youth groups meeting on opposite nights and staggered Spanish and English weekend church services, the churches co-existed under one roof but as completely separate congregations.

The year Chelsea was finishing up her DVULI training, she recalled walking into the shared youth room and seeing a vision board. "On this board was a colorful circle, and inside was written 'Fuse with KCC,'" recalls Chelsea, who learned the two youth groups desired to come together as one group before she started working there.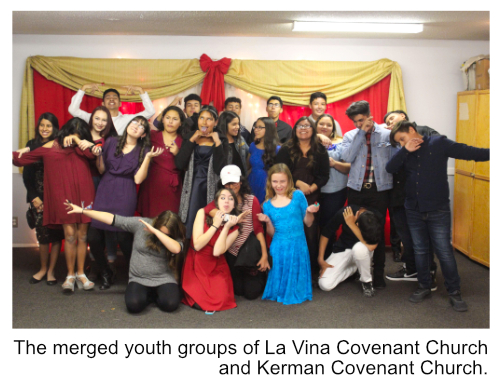 "Our 'fusion' began when the empowered youth leaders and students started to cross over and visit each other's ministries," explains Chelsea. "I too began to be intentional about not only connecting with the La Vina youth but also building relationships with individuals from their church, often putting myself in uncomfortable situations." Chelsea witnessed a new relational connection that created a foundation of trust, teamwork, and excitement for possibilities.

As a DVULI participant, she learned to set aside her lone-ranger tendencies and embrace the interdependence core value to move forward in fulfilling her breakthrough plan. Guiding the students and leaders toward each other, she took it a step further and invited the church leadership into the process. Her role in uniting her church's primarily Caucasian youth group with a Latino church became Chelsea's most significant breakthrough goal. Although this part of the plan was not her original idea, she felt the "Spirit leading a move of leverage"–a word she had never experienced in the context of leadership prior to DVULI. With the support of both lead pastors, the students officially combined their two youth groups, and "unlikely friendships" blossomed. "It was beautiful for them to realize what they shared in common was Jesus," explains Chelsea. "All they needed was a common space to discover each other." What she did not see coming was that this breakthrough was just a preview of what God would eventually do with both church bodies.

Then something miraculous happened. In October 2021, KCC and LVCC officially merged into a multicultural, multigenerational church. "This new union reflects God's heart for redemption, reconciliation, and the beautiful mosaic of His kingdom," rejoices Chelsea. "We are truly better together, and I thank DVULI for igniting the vision and passion to see shalom come to fruition in Kerman."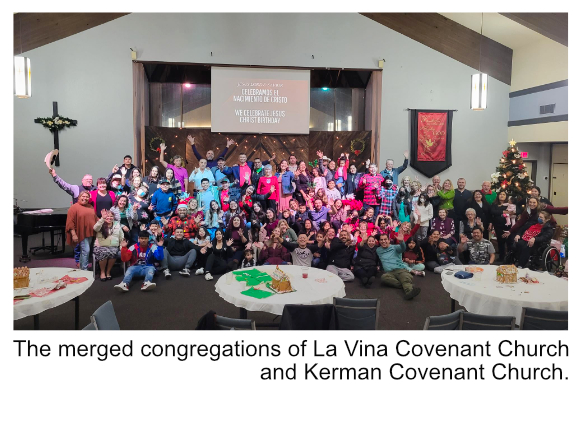 "Almost six years after graduating from DVULI, I am grateful to God to witness my breakthrough and to see infinitely more than I might have asked become a reality," shares Chelsea, who believes God called her to be a bridge-builder. "I grew up in church and was familiar with knowing that we are needed in the body of Christ. I knew the scriptures and memorized them growing up, but I do not think it moved to my heart," she says.

DVULI's training countered her leadership habit of working in a silo and guided her toward the concept of being a better steward of her God-given role and resources. "I realized I was doing a disservice to myself and those I led when I did not depend on God and those He had placed around me," she says. "I began to see everyone around me differently. Each person had something to offer: their story, wisdom, life, resources, input, etc. When I began to posture myself to see those around me differently, my eyes were opened."

"We have overcome many challenges of bringing together two different cultures, strongholds of tradition, and unforeseen obstacles along the way." Chelsea continues, "However, we feel that breakthrough is found as we live out God's original shalom intention in an increasingly polarized world." La Vina Covenant Church has become a beacon of Christ's unity in the Fresno community and a model for churches nationwide. The transformation of an unlikely church was led by the empowerment of youth."