Alumni Profile: Jessica Taylor
Posted by: DVULI | November 1, 2021

by Will Cumby (Houston 2010)
► ALUMNI: Jessica Taylor (Portland 2013)
► ORGANIZATION: Youth for Christ
► CURRENT POSITION: Chief of Staff
How long have you been involved in youth programs, and how do you fulfill your mission?
Fifteen years ago, I felt God calling me to empower upcoming generations of world changers. Without having a clue what that calling would come to mean, I jumped in. For the past four years, I have served young people with the organization Youth for Christ (YFC). What began as a unique way to serve youth in my community soon became the chance to serve as Special Advisor to the President of YFC, and now I serve as Chief of Staff to our new President, Jake Bland.
I believe that good leadership inspires and models a preferred future to those it impacts. As leaders, if we are not healthy, engaged, and fully ourselves, young people don't have a good example to follow. YFC reaches young people everywhere with the hope of Jesus. We do this by going to where kids are in their communities with safe, empowering adults.
It is a beautiful picture when Christ-centered leaders work, lead, and advocate for a kingdom mission. I hope to inspire leaders to co-create a world where leadership is not defined by followers but by impact.
Why do you think God has called you to this work?
I am confident that my calling is to empower others and to position myself as a kingdom collaborator. I believe that young people have the keys to unlock what we have thought of as unsolvable problems. Engaging in a healthy, humble, and empathetic way will change the world and will certainly change the world of a young person.
What do you hope to accomplish while you serve in this capacity?
I envision a movement where leaders abide in Christ and are empowered to work together to model interdependence to a divided world. As a body of believers, I hope that we continue to grow into the kind of people God uses to communicate the hope of Christ to young people. I want to see the leadership in our organization represent the young people and communities we serve so we truly can reach young people everywhere as our mission calls us to do.



When we process life together with the Spirit of Christ by hearing, listening, and seeing one another, we achieve a multidimensional, thriving community.
What challenges have you or the organization had to overcome?
Our local YFC chapters, staff, and volunteers made essential pivots to rally around young people experiencing complex realities last year. Our communities were desperate for continued engagement, and we answered that call. We used a "replace not cancel" model, which meant we were creative, gritty, and connected in a time when so much disconnection and chaos was present in the lives of young people.
We instituted drop-off care packages and birthday presents, front door family photos, food drives, and a social distance food pantry. We held virtual clubs and online game tournaments that provided the most incredible response. Our people found such creative ways to stay in touch as they continued impacting young people, sharing life, telling stories, and keeping relational ministry alive.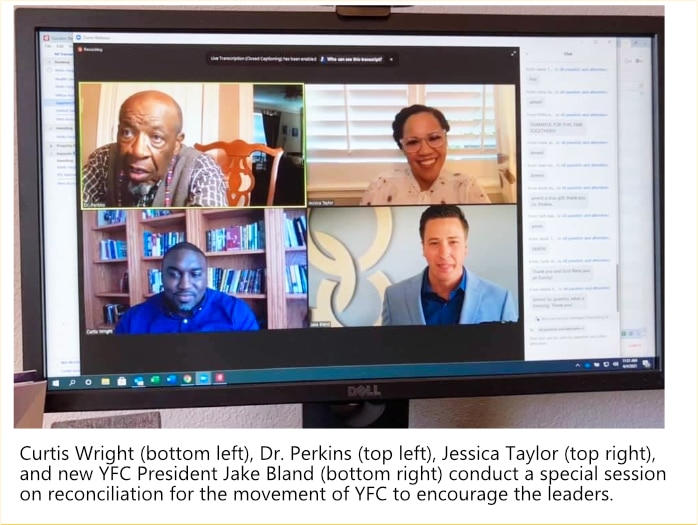 What collaborative opportunities are benefiting this work?
We are deeply connected in our local communities and prioritize empowering leaders from within the communities we serve, so young people see themselves represented in leadership. We are collaborating with countless churches, universities, parachurch ministries and other like-minded partners. Collaboration prevents us from wasting valuable time and resources or reinventing the wheel, so we can leverage that time to engage youth. When we lay down ego and focus on the larger impact, we really can function better together.
What are you most proud of that YFC has accomplished?
Right now, I am most proud of the growth we have seen in incorporating more diverse voices in our movement as we have been championing the inclusion of women and people of color in more meaningful and substantial leadership roles. This comes as a result of our commitment to enduring humility as we learn and grow in this space. The outcome of a more diverse expression of the kingdom means more young people can be engaged in relationships with adults and with God.
How can your DVULI family pray for you as you move forward?
As we continue to reach young people navigating such a complex world, pray that we would be leaders who abide in Christ, and from that abiding, God gets the glory for the eternal impact.
---
This article was published in the Fall 2021 issue of DVULI's On the Level print newsletter.