DVULI Trail Blazer Virginia Ward Is Pacing Her Purpose
Posted by: DVULI | June 30, 2023

by Gerald Bell (Kansas City 2003) 
Virginia Ward (Boston 1998) knows a few things about empowering next-generation leaders. Those who have been in spaces where she's training or speaking might argue "a few things" is an understatement! 
Known for her ability to equip and energize an audience, Virginia is highly knowledgeable about the principles and values urban ministry leaders should embody to be effective today. Her passion for instructing stems from the regimens she acquired being raised by a school-teaching mother who also taught Sunday school and vacation Bible school. In addition, her father was a pastor.
Since age 16, Virginia has been reaching, inspiring, and mentoring a variety of youth who live in complicated and unfortunate conditions. Their challenges, however, are not unfamiliar to Virginia, whose parents divorced when she was in junior high school.
"It greatly affected our family financially," reveals Virginia. "My mother raised four children on a teacher's salary in the city."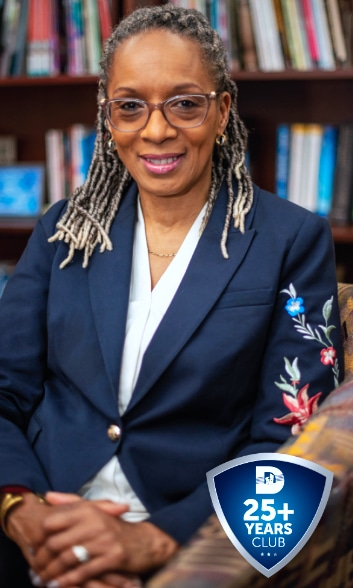 Virginia is sensitive to the breakdown of the family structure that is pervasive in underserved neighborhoods and how these dynamics too often drive youth to make poor decisions. She recalls being one of those youths confronting the temptation to choose unwisely. "I can relate to the struggles urban youth [face]," she admits. "I understand that without godly, adult guidance, it is difficult to develop godly character."
Virginia's spiritual development and faith formation point to Charles Street A.M.E. Church in Boston, where she faithfully attended with her mother and siblings. This is the church that afforded her an early platform to speak publicly and where she cut her teeth in youth ministry. "My A.M.E. roots gave me a voice as a young, gifted, and black woman that has built a solid foundation for ministry and leadership," she describes.
Listening to Virginia talk (signature Bostonian accent included), you immediately know other sources beyond textbooks and coursework have shaped the credibility she's earned. For starters, she embraces being mentored by others and relishes the impartation she's received from leaders in church, academic, and business sectors.
"I met Dean Borgman (of Gordon-Conwell Theological Seminary) who mentored me and encouraged me to enter seminary," notes Virginia, while observing how some of her mentors have been men. Among them would be her husband, Bishop Lawrence Ward of Abundant Life Church in Cambridge, Massachusetts. "He was the youth leader first and recognized my heart and talent for youth and then knighted me as his replacement," she explained.
Virginia goes on to credit the late Richard DeVos, who modeled leadership, relationship building, and valuing other people. She said her few encounters with Mr. DeVos were a key takeaway from her DVULI experience both as a participant and a facilitator. "For those times when he didn't remember my name, he called me Miss Boston," she recounts. "I could never tell if he forgot my name or just chose to call me Miss Boston, but I will always value those moments with him."
The DVULI training continues to be an ongoing source of development and lifelong learning for Virginia, who has been a cohort coach, conference keynote speaker, and facilitator for local workshops. She has taken full advantage of the DVULI relationships she's formed across the US and recommends past, present, and future DVULI participants do the work to build and preserve like-minded relationships.
"Be intentionally connected with youth leaders outside of your own space," Virginia advises. "Other youth workers helped to strengthen me where I was weak. They helped to supply needs that I just couldn't supply. They understand ministry from an urban context, and I didn't have to explain why I am doing what I am doing."
She continues, "We're all learning together! Even now, as a trainer going from city to city, I am still learning from urban youth workers. They are the national family that I didn't have before DVULI."
With access to a supporting community, active mentors, and strong family ties, Virginia works hard to balance her personal and professional priorities. Inevitably her journey encountered some challenges along the way, which is why she holds Proverbs 3:5–6 close to her vest and a pearl of wisdom from her loving mom.
"My mother repeatedly told me a woman can do anything," says Virginia, who has contended with being minimized and marginalized in some settings. "She modeled strength and exposed me to other strong women in various disciplines."
Virginia believes whether a leader is single or married, taking care of your own family is most important. This tip is coming from the now Dr. Ward, who used to tell the youth in her ministry that they can call her any time of the day and she'll be there.
Over time, however, Virginia has learned valuable lessons about work-life boundaries and pacing herself. Such life lessons have forced her to coin the mantra, "Pace is just as important as purpose!"
---
Virginia Ward (Boston 1998) is Dean of the Urban Campus at Gordon-Conwell Theological Seminary, where she teaches courses in youth ministry and leadership. She instructs the Personal and Ministry Assessment and Community Youth Development workshops for DVULI. Ward is also Associate Pastor at Abundant Life Church in Cambridge, MA. She and her husband are the parents of two adult sons.